May  21, 2009
"My winning the Seaborg Award is a true testament to the quality of education, opportunities, resources, and support provided by Augustana College." --
Zak Rajput
Packing the tux: Rajput wins award, will attend Nobel ceremony
How did a Muslim student from a small Illinois town land the hottest ticket in Sweden, a country that is three-quarters Lutheran?
First, he had to be a science or math major. Check.
Second, he had to attend one of six U.S. colleges with Swedish Lutheran founders. Check.
Third, he had to be the most outstanding student. Check!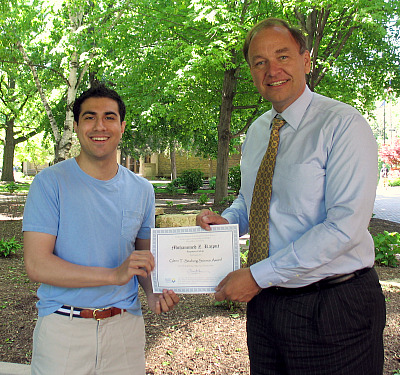 Zak Rajput receives his Seaborg Award certificate from Augustana President Steve Bahls.
That is why Mohamed Zak Rajput '09 will go to Sweden for Nobel Prize Week next December, living on a 3-masted sailing ship in Stockholm Harbor, listening to the new laureates lecture, going to parties and dinners, touring universities and laboratories. And at week's end, participating in the glittering Nobel Awards ceremony and banquet.
Rajput is this year's winner of the Glenn T. Seaborg Science Award from the Swedish Council of America, given to one American student each year in honor of Nobel laureate Dr. Glenn T. Seaborg, who discovered or co-discovered numerous atomic elements.
"I was elated to hear that I had won," Rajput said. "I have always been fascinated by the accomplishments of the Nobel Laureates, and it will be a honor to attend the ceremony. I cannot wait to see who will win this year's prizes.
"My parents were both extremely excited for me as well -- I think my dad's first words after hearing me say that I would be attending the Nobel Ceremony were, 'Oh WOW!'"
A lot will happen before he gets to Sweden. First, he'll graduate from Augustana on May 24 with a degree in biology, graduating with distinction in his field and a perfect 4.0 grade-point average. Then it's on to medical school in the fall at Loyola University in Chicago, not so very far from his hometown of Aledo, Ill. Rajput comes from a family of physicians, so his choice of a medical career might have seemed obvious. However, he's looking for his own path.
"Although I am not sure what field of medicine I will enter, ideally, I would like to pursue a specialty that offers me the greatest flexibility and opportunity to participate with groups like Médecins Sans Frontières (Doctors without Borders) and perform medical care in developing or war-torn countries and to serve as an advocate for global health issues," he said.
Obviously, Rajput has been thinking some pretty serious thoughts through college, especially as he nears the end of his Augustana career.
"Although I tend to think I haven't changed a great deal since entering Augie, one aspect of my personality that I think has grown and developed in these past four years is a kind of strong sense of gravitas toward any project that I have been entrusted with, or any goal/objective that I seek to accomplish," he said. "Everything, from college course exams to research experiments to advocacy for global HIV/AIDS funding, I view as a responsibility serving a much higher and greater purpose, thereby meriting my sincerest devotion."
His pondering is not limited to science and humanitarian health efforts. One of his first contacts with his college was when he was recognized at an Augustana theater festival for his high school play about anti-Muslim prejudice in the post-9/11 world. As an Augustana student, he advocated for adding an Islamic faculty member and participated in a new Muslim Student Association.
Rajput had little trouble in choosing Augustana. Many of his friends and family acquaintances had attended Augustana and praised the college to him. One of his favorite high school teachers moved to Augustana to teach. "Augustana seemed like the best fit for me," he said. "I was attracted to the small class sizes and the opportunities for students to develop one-on-one relationships with faculty and administrators."
He's taken advantage of those opportunities. In August 2007, Rajput served with UKUN, a Tanzanian non-governmental organization providing home-based care and outreach to people with HIV/AIDS. He has served in multiple leadership positions with the Student Government Association, the Augustana Chemical Society, and the General Education Committee. He also has participated in multiple research programs at Augustana, the University of Iowa, and Baylor College of Medicine and presented his findings at both international research conferences and in journal publications.
As the Swedish American Council clearly saw, he is outstanding. And grateful.
"My winning the Seaborg Award is, besides being a personal accolade, a true testament to the quality of education, opportunities, resources, and support provided by the faculty, staff, and administration of Augustana College."