May  12, 2009
"With an interfaith Baccalaureate, the college is demonstrating that it values students of other faiths."
-- Margi Rogal, Jewish Student Organization advisor
Making the interfaith connection at baccalaureate
It's a change that may largely go unnoticed. If told, most people probably would say, "But haven't we always done it that way?"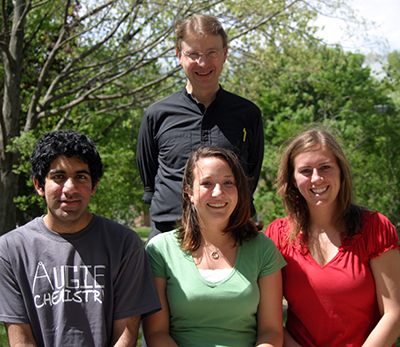 College chaplain Richard Priggie with students who will participate in Augustana's first interfaith baccalaureate this year. They are, from left, Mohammed Hussain, Courtney Ward and Colleen Kilbride.
For the first time this year, Augustana's baccalaureate service will include Muslim prayers and readings from the Koran, and Jewish prayers and Hebrew Bible scriptures. The service will still be a Christian liturgy, said college Chaplain Richard Priggie, but with interfaith components.
"The purpose of baccalaureate is to give students a chance to reflect and give God thanks for all they have achieved," he said. "An interfaith baccalaureate fosters that for everyone and runs true to the spirit of Augustana."
The addition of Muslim and Jewish texts and prayers has come about "organically," said Pastor Priggie, as interfaith life at the college has markedly increased over the past two years.
"This generation of students is much more open to trying to understand people from other religious traditions," he said. "They live in a more diverse society."
A Muslim student group and a Jewish student group both became active on campus this year, raising the profile of their faiths on campus and making the students feel more connected to the college. Augustana has helped with that connection, providing faculty advisors, setting up a prayer room for Muslim students and providing kosher and halal foods, for example.
"I am extremely excited that a group like this is able to exist on a Lutheran campus," said Courtney Ward of the Jewish Student Organization (JSO). "The past three years, I felt a bit isolated from my Jewish faith, but knowing there are other students and faculty with similar beliefs as mine has been great."
Mohammed Hussain, a first-year student who is president of the Muslim Student Association (MSA), agreed. "Having this group has really made me feel more connected with the Muslim students and with the college," he said. "We really appreciate Augustana's efforts in providing us with funding so that we can get together and bond with each other."
A key part of that connection comes from the Interfaith Understanding Committee, said committee member Colleen Kilbride, a senior. The committee of 15-40 students, faculty and staff meets about every two weeks.
Recently, Interfaith and the Muslim and Jewish groups hosted a peace prayer service in Ascension chapel. "We focused on three levels of peace: inner, relational and communal, and it provided an opportunity to come together on a unifying theme," Kilbride said. "At for the upcoming baccalaureate service, we will be having readings from all three Abrahamic traditions. I think this is a wonderful way to begin to address the religious diversity that exists on campus in a formal way."
'They're clicking'
Plans for next year
Both the student groups met regularly all year, each with about 10 members. Both held successful activities. JSO organized a Purim festival and Passover seder. MSA held its first Islamic Awareness dinner, which attracted around 100 students. They plan to have the dinner again next year.
"Our group has worked out splendidly this year," Hussain said. "Next year, we are hoping that the MSA will become more involved in doing service work in the greater Q-C area."
Ward said JSO plans for next year include fundraisers, a Sukkot event and a Hanukkah party. But most importantly, she said, like MSA, the JSO simply wants to raise awareness about their faith on campus. "We hope that prospective students who may be apprehensive about coming to a Lutheran-affiliated school know that we exist and that Augie's community is very welcoming," she said.
Although the MSA met informally in the past, this is the first year the group had a Muslim advisor. Religion professor Dr. Cyrus Zargar, also in his first year at Augustana, said it's been an active year for the group. "It's been great. I think one of the advantages to the group has been its ability to give Muslim students a place where they can be supported," he said. "It's fostered friendships between different members. I see them together sometimes and that just makes me so happy. They're clicking. Sometimes you just need that support group."
Dr. Zargar said the student have been especially happy with the way their peers, professors and administrators have treated them. "They showed a direct interest in the students," he said, and the students noticed.
Librarian Margi Rogal, advisor to the JSO, has seen her group 'click,' too. She wasn't prepared for the response she got when she sent out an email about the first meeting. "About eight students showed up and they didn't stop talking." she said. "I couldn't get a word in edgewise. They shared their experiences growing up Jewish and their experiences at Augustana where, although they fit in just fine, they still experienced occasional feelings of not being understood or being teased in a friendly way, of feeling that they were different.
"I think having an interfaith component to the baccalaureate service is a huge step for the college," said Rogal. "Up to now, events like this have been strictly Christian in orientation. We will not begin to make everyone feel included until we actually include everyone. It's quite a lonely feeling to sit in an audience and hear only Christian blessings and prayers. With an interfaith baccalaureate, the college is demonstrating that it values students of other faiths.
"This is an important lesson for Christians, too. If you are the center of things, you don't realize that there is a periphery present, that what appears to be at the periphery is central for other people and just as beautiful and unique a way of understanding the world as your own."