April  28, 2009
River Readings will end, begin with poetry
The River Readings at Augustana literary series will wrap up with a poet laureate and next year's series will begin with one.
Marvin Bell, Iowa's first poet laureate, will be the last reader for the academic year on May 7. Professor Rebecca Wee, poet laureate of the Quad-Cities from 2003-2005. will begin the series anew Sept. 10.
Bell, a faculty member at the University of Iowa Writers' Workshop for more than 30 years, will read at 7 p.m. in Larson Hall, Bergendoff Hall of Fine Arts. He is the author of 18 books of poetry, including Mars Being Red. Bell will be a Woodrow Wilson Visiting Fellow at Augustana the week of May 4-8.
Kelly Daniels, professor of English and one of the River Readings organizers, said Wee's selection as the first reader for next year continues the tradition of starting with a writer who has ties to Augustana. Last year that was alumna and poet Farah Marklevits ('99).
The River Readings are open to the public as well as the campus community. Visiting writers also spend time with classes and student groups while they are on campus.
The River Readings at Augustana, 2009-10
September 10, Rebecca Wee, poetry: Wee is the author of Uncertain Grace, a collection of poems which received the 2000 Hayden Carruth Award for New and Emerging Poets. In 2003 she was chosen by U.S. Poet Laureate Billy Collins to receive one of two annual Witter Bynner fellowships in poetry.
October 1, James Galvin, poetry and fiction: A member of the faculty at the University of Iowa Writers' Workshop, James Galvin has written several volumes of poetry, most recently X: Poems, a work of prose writing, The Meadow, and a novel, Fencing the Sky. He spends part of every year ranching in Wyoming.
January 21, Robyn Schiff, poetry, and Nick Twemlow, poetry and publishing: director of Undergraduate Creative Writing at the University of Iowa, Robyn Schiff has published two volumes of poetry, Worth and Revolver and co-edits The Canary and Canarium Books. Nick Twemlow's poems have lately appeared or are forthcoming in A Public Space, New American Writing, Chicago Review, and Make. His chapbook, The Twenty-four Complications, is due out later this year from Spectacular Books. A former editor for the Poetry Foundation, he co-edits The Canary and Canarium Books in Iowa City.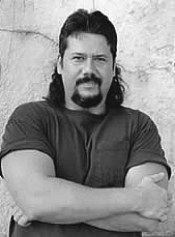 Richard Katrovas
February 4, Richard Katrovas, poetry, memoir and fiction. The recipient of numerous grants and awards, Katrovas is the author of Green Dragons (winner of Wesleyan University Press's New Poets Series, 1983); Snug Harbor; The Public Mirror; The Book of Complaints; Prague, USA; Dithyrambs; Mystic Pig; The Republic of Burma Shave; Prague Winter; and The Years of Smashing Bricks. Katrovas taught for 20 years at the University of New Orleans and is now a professor of English at Western Michigan University. He is the founding director of the Prague Summer Program.
March 18, Chris Offutt, fiction and memoir: A native of Haldeman, Ky., Chris Offutt has taught at the University of Iowa Writers' Workshop and other universities. His books include two memoirs, The Same River Twice and No Heroes, two books of shorts stories, Kentucky Straight and Out of the Woods, a novel, The Good Brother, and a story, Another Man's Escape, for the comic book Michael Chabon Presents: the Amazing Adventures of the Escapist, Volume 3 .
April 15, Daniel Woodrell, fiction: The author of eight novels, most recently Winter's Bone, Daniel Woodrell is known for writing in the vernacular of the Ozark region and his writing has been described as "country noir." His novel Woe to Live On was adapted into the 1999 movie, Ride With the Devil directed by Ang Lee. Both Give Us a Kiss and Winter's Bone are in development as films.