April 27, 2009
2009 Season - Coleman wins NCAA Postgraduate Scholarship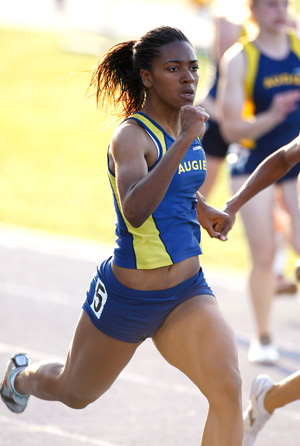 Keli Coleman
Augustana senior track and field standout Keli Coleman
(Carmel HS, Grayslake, Ill.)
has been awarded an NCAA Postgraduate Scholarship, it was announced today. Coleman, the top sprinter for the Vikings over the last four years and a two time NCAA Division III All-American in the 55 meter dash, was one of just 29 female athletes nationwide to be given the prestigious honor.
The NCAA postgraduate scholarship program selected a total of 58 winners (29 women and 29 men) to receive a one-time, non-renewable grant of $7,500.00. The scholarships are awarded to student-athletes who excel academically and athletically and who are in their final year of intercollegiate athletics competition.
Coleman has had an outstanding career as a sprinter for the Vikings. She won three straight CCIW indoor titles in the 55 meter dash before finishing second this past season. She has earned NCAA Division III All-American honors twice in her career, both times in the 55 meter dash during the indoor season (2006 & 2008). She has won three consecutive CCIW titles in the 100 meter dash outdoors and in 2007 was a member of the conference champion 400 relay team.
She was named to the ESPN – The Magazine Academic All-American team as selected by the College Sports Information Directors of America (CoSIDA) in 2008. She has also been on the academic honor roll from the United States Track & Field/Cross Country Coaches Association each of her previous three seasons.
In addition to her seven CCIW titles and two All-American certificates, Coleman owns Augustana school records in the 55 (:07.08), 60 (:07.81) and 200 (:25.68) indoors and the 100 (:11.96) outdoors. She is also a member of school records in the 400 and 800 relays.
Twice she has been the winner of the Jack Swartz Award in the CCIW, an award that combines athletic accomplishments with academic excellence. She won the award both as a junior and as a senior after the indoor track & field season.
Keli is the daughter of Irvin and Rebecca Coleman of Grayslake and she has a 3.84 grade point average with a major in biology/pre-medicine.
The NCAA Postgraduate Scholarship was created in 1964 to promote and encourage postgraduate education by rewarding the Association's most accomplished student-athletes through their participation in NCAA championship and/or emerging sports. Augustana has had a long history of producing NCAA Postgraduate Scholars as Coleman becomes the 22 nd Viking athlete to win the honor.
AUGUSTANA NCAA POSTGRADUATE SCHOLARS
| | | |
| --- | --- | --- |
| Year | Student-Athlete | Sport |
| 1968 | Jeff Maurus | Football |
| 1970 | Tim Dodge | Wrestling |
| 1971 | Ken Anderson | Football |
| 1975 | Bruce Hamming | Basketball |
| 1976 | John Stanek | Track & Field |
| 1977 | Joe Thompson | Football |
| 1986 | Steve Sanders | Football |
| 1995 | Rachel Knapp | Track & Field |
| 1995 | Tommy King | Football |
| 1996 | Ryan Carpenter | Football |
| 1998 | Alison Wolak | Track & Field |
| 1998 | Chris Meskan | Football |
| 2000 | Mackenzie Hay | Football |
| 2001 | Kim Baier | Track & Field |
| 2002 | Rudy Kovachevich | Cross Country |
| 2003 | Todd Baldwin | Football |
| 2004 | Manda Geerts | Track & Field |
| 2005 | Steve Broski | Baseball |
| 2006 | Nick Johnson | Track & Field |
| 2007 | Meghan Voiland | Track & Field |
| 2007 | Samantha Knox | Softball |
| 2009 | Keli Coleman | Track & Field |