April  01, 2009
Centre for Whistler Criticism dedication will feature international expert Dr. Nigel Thorp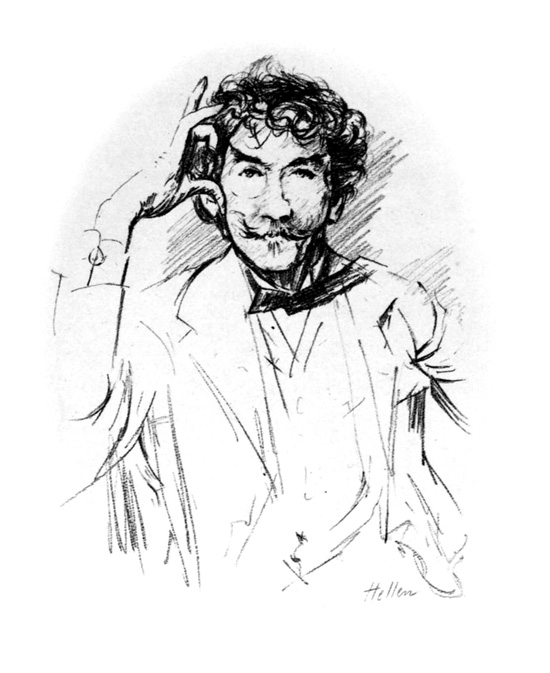 Attributed to Paul-César François Helleu (French 1859—1927); Study of James McNeill Whistler, n.d., attributed to 1897; Graphite drawing; Gift of Richard and Barbara Ragan, Augustana College Art Collection, 2000.10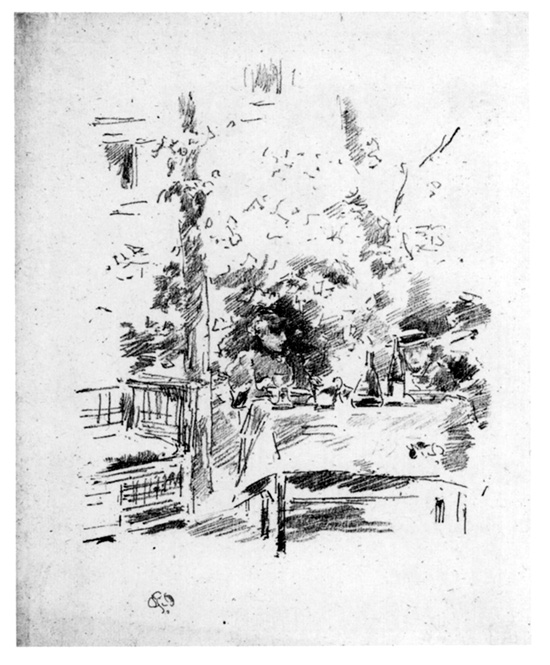 James Abbott McNeill Whistler (American 1834—1903); Tête-à-tête in the Garden, 1894, 28 graphite signed impressions printed by Thomas Way (British 1837—1930): Transfer lithograph on ivory laid paper; Paul A. Anderson Chair in the Arts Purchase, Augustana College Art Collection, 97.9
Dr. Nigel Thorp, former director of the
Centre for Whistler Studies
, will present "Whistler and the Poetry of Sight" at 7:30 p.m. Tuesday, April 7 in Larson Hall, Bergendoff Hall of Fine Arts. Augustana President Steve Bahls will dedicate Augustana's
Centre for Whistler Criticism
, which will be headed up by professor Dr. Catherine Carter Goebel.
Dr. Thorp, international expert on James McNeill Whistler (1834-1903), is an honorary research fellow at the University of Glasgow, Scotland, the director and editor of the Whistler Correspondence project and a senior fellow at the Paul Mellon Centre for Studies in British Art.
"We are fortunate that Dr. Thorp will present his research and advise art history majors on their senior inquiry," Dr. Goebel said. "The Centre for Whistler Criticism establishes a major international research project. It will create a strong collaborative bridge between Augustana College and the University of Glasgow."
Whistler's public statements on art and artistic theory emphasize the inter-relationship among the sister arts of music, poetry and painting. His use of musical terms for the titles of his paintings — such as Arrangement, Harmony, Nocturne, Symphony — emphasizes his reaction against the narrative interpretation of art made especially by English critics, whom he represents as being governed in their views by a mistaken determination to interpret art for its usefulness or its moral purpose.
The lecture will explore Whistler's view of the poetic values of art understood by the artist but which the general public, particularly in Victorian London, was slow to grasp. It examines his use of the terms "poetry" and "poetic" within his definition of artistic achievement as seen in his voluminous correspondence, in particular with reference to his Ten O'Clock lecture of 1885 and a newly revealed series of letters from Whistler to the French poet Stéphane Mallarmé at the time that Mallarmé was engaged in translating the lecture for publication in France.
Dr. Goebel, the Paul A. Anderson Chair in the Arts and professor and chair of art history, is the international authority on Whistler criticism. The new center will construct an international digital archive of the complete collection of Whistler's lifetime criticism, which included reviews by such notables as Henry James, Oscar Wilde and Charles Baudelaire. This criticism project will commence with examining and cataloguing all of Whistler's own hand-annotated scrapbooks, housed in the Whistler archives in Special Collections at the University of Glasgow, photographed there for this project.
One of Whistler's original scrapbooks has been lent by the University of Glasgow and will be on display for the event. In addition, Dr. David Weston, Keeper of Special Collections and Assistant Director of the Glasgow University Library, has donated two of Whistler's original catalogues. Dr. Thorp also is collaborating with Dr. Goebel and has shared his expertise and databases toward establishing Augustana's project, which will offer pedagogical and scholarly faculty/student research opportunities for Augustana undergraduate students and serve larger scholar communities.
The study of criticism is especially pertinent to Whistler, who probably provoked more critical dialogue than any artist. During his time, due to the growth of the the power of the press, the position of the art critic was dramatically elevated. This was a new force with which artists needed to contend, and as was typical of Whistler, he mounted an aggressive campaign. He employed a press cutting agency to keep him abreast of any mention of his name and carefully compiled his clippings into scrapbooks, used toward constructing his later catalogues, pamphlets and infamous autobiographical book: The Gentle Art of Making Enemies (1892).
Whistler famously challenged pre-eminent Victorian art critic John Ruskin by charging him with libel for crossing the line of fair criticism by attacking the artist as well as his art. Whistler won the case but was only awarded a farthing in damages and concluded: "No! Let there be no critics! They are not a 'necessary evil,' but an evil quite unnecessary, though an evil certainly."
The lecture, dedication and reception are all free and open to the public. This event is supported through the Vaky Art History Lecture Series, made possible through the support of James Russell Vaky, as well as the Paul A. Anderson Chair in the Arts and the Augustana Humanities Fund.
More information
Catherine Carter Goebel
(309) 794-7489