Coach Paul V. Olsen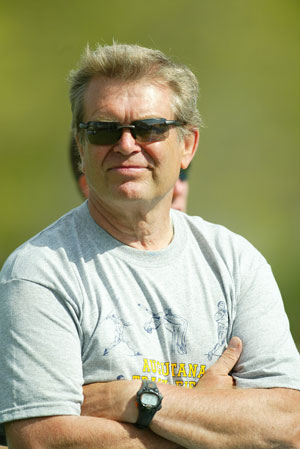 The name Paul Olsen has become synonymous with Augustana cross country and track & field and with good reason. The energetic and enthusiastic mentor has been producing winning teams and individuals since the mid 1960's and he shows no signs of slowing down. He took over the head cross country coaching position in 1966 and he assumed the reigns of the track & field program in 1969. He just completed his 43rd year as the head cross country coach and this spring will be his 41st season as the head coach in track & field.
Through it all, success has been his constant companion, no matter whether the sport is cross country or track & field. In those 43 cross country seasons he has led the Vikings into the NCAA national meet a total of 24 times, including appearances in the last two years (15th in 2007 and 21st in 2008). Ten times during his illustrious career his teams have been in the top 10 in the nation and his 1980 unit placed second, just four points shy of a national title.
Augustana has won two College Conference of Illinois & Wisconsin cross country titles in the school's history and both have come under Olsen. The Vikings have placed second 26 times under his tutelage including 16 times in the last 21 years. Only twice during the last 43 years have his teams finished as low as fourth in the conference. Five individual Augustana runners have won a total of seven league titles and in national competition the Vikings have garnered 22 All-America certificates and three individual national titles.
He has served as meet director of the NCAA Division III national meet five times and his team has hosted the Midwest Regional 20 times since 1979. In 1996 and 2001 the Vikings hosted both the NCAA Midwest Regional and the NCAA Division III national meet.
His track & field resume is just as impressive as he has led Augustana to 11 CCIW titles and 32 runner-up finishes, 27 in the outdoor meet and five during the indoor championships. In the spring of 2008 the Vikings won the CCIW title for the first time since 1984 and finished the year ranked first in the NCAA Division III "Power Rankings". In addition, Olsen was named the NCAA Division III "National Coach of the Year" by the United States Track & Field and Cross Country Coaches Association. A total of 186 individuals and 20 relay teams have won league titles during Olsen's tenure in outdoor track and 17 individuals and five relay teams have claimed indoor championships, giving him an all-time total of 203 individual CCIW champs and 25 relay winners.
He has also coached a total of 150 NCAA Division III All-America selections in both indoor and outdoor track and 22 times Viking athletes have won individual national championships. The Blue and Gold has placed in the top 10 in the national meet 16 times including second place finishes in 1975 and 1981. In 2007 his team was eighth in the outdoor national championships.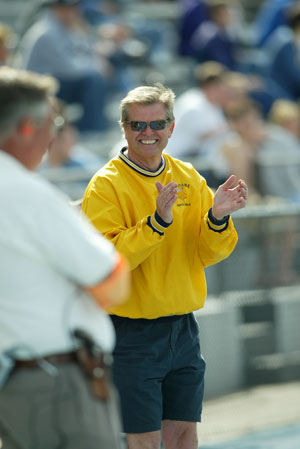 He was inducted into the Illinois Track & Field Coaches Association "Hall of Fame" in January of 2004 and went into the Augustana "Tribe of Vikings Hall of Fame" in October of 2005.

A native of Onamia, Minnesota, Olsen came to Augustana after a teaching and coaching stint at Lincoln High School in Manitowoc, Wisconsin. During his first couple of years at Augustana he served as an assistant in both football and basketball before assuming full time duties in track and cross country.

Olsen is a man of many talents and interests. As a professor in the English Department at Augustana, Olsen ranks as one of the most popular teachers in the entire school with his classes in Black Literature and the Sacred and Profane consistently filled to capacity. In 1989 Olsen was one of just 120 teachers nationwide who were honored at the American Association for Higher Education convention in Chicago. He was the only Augustana faculty member named to the elite group. He has been selected by the seniors at Augustana to give the final lecture 10 times during his career. At one time he used to perform a one-person play entitled "Pilgrimage with Poets" that was highly acclaimed.

Olsen is a graduate of Luther College in Decorah, Iowa, where he was captain of the track team and a starter for the football team as a defensive back. He holds an M.A. and Ph.D. in English Literature from the University of Oregon. He resides in Bettendorf, Iowa with his wife Jeanne. The couple have a pair of sons - David, who is a former United States Navy S.E.A.L. and Eric, who is an actor and a student at Pepperdine University. Eric has appeared in several movies, including "Pearl Harbor", "Not Another Teen Movie" and "Arthur's Quest", and television shows, such as "ER","Smallville" and "Get Real".
THE PAUL OLSEN RECORD AT AUGUSTANA
| | | | | | | | | |
| --- | --- | --- | --- | --- | --- | --- | --- | --- |
| | CROSS COUNTRY | | | TRACK & FIELD | | | | |
| YEAR | DUAL MEETS | CCIW | NCAA | DUAL MEETS | CCIW INDOOR | CCIW OUTDOOR | NCAA INDOOR | NCAA OUTDOOR |
| 1966-67 | 7-5 | 3rd | | | | | | |
| 1967-68 | 6-1 | 2nd | 17th | | | | | |
| 1968-69 | 4-4 | 4th | ----- | 2-5 | | 1st | | 35th |
| 1969-70 | 4-2 | 1st | 19th | 4-2 | | 1st | | ----- |
| 1970-71 | 6-1 | 1st | 12th | 4-1 | | 2nd | | ----- |
| 1971-72 | 2-1 | 3rd | 9th | 4-0 | | 1st | | ----- |
| 1972-73 | 3-3 | 3rd | 10th | 6-1 | | 1st | | 40th |
| 1973-74 | 4-1-1 | 3rd | 6th | 4-0 | | 1st | | 6th |
| 1974-75 | 2-3 | 2nd | 5th | 1-1 | | 2nd | | 2nd |
| 1975-76 | 2-4 | 3rd | 17th | 2-2 | | 2nd | | 25th |
| 1976-77 | 3-3 | 2nd | 14th | 3-1 | | 2nd | | 16th |
| 1977-78 | 4-2 | 2nd | 22nd | 4-0 | | 2nd | | 19th |
| 1978-79 | 2-4 | 2nd | ----- | 5-0 | | 2nd | | 34th |
| 1979-80 | 0-4 | 2nd | 4th | 5-0 | | 1st | | 4th |
| 1980-81 | 0-1-1 | 2nd | 2nd | 4-1 | | 1st | | 2nd |
| 1981-82 | 0-4 | 2nd | 17th | 1-0 | | 1st | | 10th |
| 1982-83 | 1-1 | 2nd | ----- | 1-0 | | 1st | | 20th |
| 1983-84 | 1-0 | 2nd | ----- | 1-0 | | 1st | | 10th |
| 1984-85 | 1-1 | 3rd | 9th | 0-1 | | 2nd | | ----- |
| 1985-86 | 1-1 | 4th | ----- | 2-1 | | 2nd | | 42nd |
| 1986-87 | 3-0 | 2nd | 8th | 0-1 | | 2nd | | 41st |
| 1987-88 | 1-1 | 3rd | ----- | 1-0 | | 2nd | | 61st |
| 1988-89 | 2-4 | 2nd | 19th | 0-0 | | 2nd | | 52nd |
| 1989-90 | 0-2 | 2nd | 11th | 0-0 | | 2nd | | 22nd |
| 1990-91 | 0-1 | 2nd | 11th | 0-0 | | 2nd | | 32nd |
| 1991-92 | 4-2 | 2nd | 11th | 0-0 | | 2nd | | 7th |
| 1992-93 | 3-0 | 2nd | 5th | 0-0 | | 2nd | | 9th |
| 1993-94 | 1-0 | 2nd | 9th | 0-0 | | 2nd | | 8th |
| 1994-95 | 0-0 | 2nd | ----- | 0-0 | | 2nd | 6th | 5th |
| 1995-96 | 1-0 | 2nd | ----- | 2-0 | | 2nd | 10th | 4th |
| 1996-97 | 0-0 | 2nd | 10th | 0-0 | | 2nd | 10th | ----- |
| 1997-98 | 0-0 | 2nd | ----- | 0-1 | | 2nd | 6th | 22nd |
| 1998-99 | 0-0 | 3rd | ----- | 0-1 | | 2nd | ----- | 56th |
| 1999-00 | 0-0 | 3rd | ----- | 0-1 | | 2nd | 27th | 56th |
| 2000-01 | 0-0 | 3rd | ----- | 0-1 | 2nd | 3rd | 30th | 62nd |
| 2001-02 | 1-0 | 3rd | ----- | 0-1 | 3rd | 2nd | ----- | ----- |
| 2002-03 | 0-0 | 2nd | ----- | 0-1 | 3rd | 2nd | ----- | 56th |
| 2003-04 | 0-0 | 2nd | ----- | 0-0 | 2nd | 2nd | ----- | ----- |
| 2004-05 | 0-0 | 2nd | ----- | 0-0 | 4th | 3rd | ----- | 39th |
| 2005-06 | 0-0 | 3rd | ----- | 0-0 | 2nd | 2nd | 26th | 18th |
| 2006-07 | 0-0 | 2nd | ----- | 0-0 | 2nd | 2nd | 45th | 8th |
| 2007-08 | 0-0 | 2nd | 15th | 0-0 | 2nd | 1st | 46th | 16th |
| 2008-09 | 0-0 | 2nd | 21st | | | | | |