March  18, 2009
Augustana historian helps filmmaker realize 'Tecumseh's Vision'
Beginning April 13, the PBS history series American Experience will present "We Shall Remain," a series of five 90-minute documentaries spanning 300 years that tell the story of pivotal moments in U.S. history from the Native American perspective. "Tecumseh's Vision," the second episode scheduled to air on April 20, features Augustana's Dr. Stephen Warren, who served as the film's academic advisor. Visit the PBS website for more details on the multi-media project.

Filmmaking is a dramatic departure from Warren's usual routine. "Being an academic historian, I'm used to working alone here in my office and being in charge of what I do," he says. "I never realized a film has so many makers-teams of people."
"Tecumseh's Vision" is the second episode of a five-part television series entitled We Shall Remain. It shows how Native peoples, for hundreds of years, have resisted expulsion from their lands, fighting American hegemony and sometimes each other, to preserve their individual identities and culture. In the 1600s, the Wampanoags of New England used their alliance with the English to weaken rival tribes. In the 1970s, tribal leaders rode the momentum of the civil rights movement to forge a new and stronger voice for all Native peoples. The narrated series blends interviews with re-enactments to create a powerful visual experience.
The Tecumseh episode profiles the inspirational Shawnee leader Tecumseh and his brother, Tenskwatawa, known as the Prophet. In the years following the American Revolution, the Prophet led a spiritual revitalization movement that drew thousands of followers from tribes across the Midwest. Tecumseh used the movement to forge a political and military alliance that came closer than anything since to creating an independent Indian state.
"Tecumseh died in an attempt to hold on to his people's lands and preserve a way of life," Warren says. "That depth of commitment is important for young Shawnee people to know about. Anyone who watches the film will come away with not only the knowledge of what Tecumseh did but also an understanding, or rationale, for what he did."
"Tecumseh's Vision" was written and co-directed by Ric Burns, whose career began with the celebrated series The Civil War, which he produced with his brother, Ken. Burns is best known for his series New York: A Documentary Film, a chronicle of the city's history that was honored with two Emmy Awards and an Alfred I. duPont-Columbia Award.
Burns says it's hard to overstate the impact Warren had on the Tecumseh film. "In many ways he was far more than just an historical consultant, partly because his very subtle approach to Shawnee history and culture combines first-rate history with deep ethnographic understanding and a very detailed knowledge of and feeling for the Shawnee people today."
Warren invited Burns to come to Augustana, and he accepted. Burns will be on campus April 23 for a post-premiere viewing and presentation on "Tecumseh's Vision."
Painting with images
Warren was asked to consult on the film because of his extensive research of the Shawnee people, and his continuing contacts with the tribe. In preparing for the project, Burns and co-director Chris Eyre met with tribal leaders to discuss their plans. Warren's name kept coming up in the directors' conversations with George Blanchard, a Shawnee tribal elder. Blanchard and Warren first met in 2001 when Warren was researching his book The Shawnees and Their Neighbors, 1795-1870. They have remained friends, and Blanchard has visited Augustana three times in recent years, meeting with students and others on campus.
Warren's work on the film began in August 2006 when he met with Burns and Eyre and accompanied them to the Absentee Shawnee Tribe headquarters in Shawnee, Okla. The following December, Warren returned to Oklahoma for a 2½-hour filmed interview with Burns. "Ric had a command of the literature in order to capture the historical elements of a unique story," Warren says. "He conducted these very involved interviews so he could form the framework of the narrative."
When he received the initial script, which was not even 50 double-spaced pages, Warren was stunned. "Coming from the world of academia, where you deal with 300-page history books, I was shocked," Warren remembers. From the 150 minutes of his taped interview, the final episode includes less than 10 minutes of Warren on camera.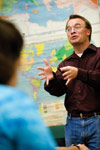 "I paint with words in the classroom and in my research," Warren notes. "Filmmakers have to paint with images. One dramatic scene with music and strong visuals has to communicate a thesis that a historian might labor over in pages and pages of text."
Although this was Warren's first experience with filmmaking, Burns says the professor "helped us think through what kinds of scenes might best be re-enacted, and how to do them deeply, authentically, respectfully. He read scripts critically and shrewdly, reviewed cuts of the film at three or four stations along the way, and gently but firmly held the producers' feet to the fire whenever an aspect of filming or the script threatened, in his view, to fall short of what he knew the material could deliver."
When the 27-page script received its final edit, filming began. In the summer of 2007, Warren was participating in a five-week National Endowment for the Humanities seminar on ethnohistory at the University of Oklahoma in Norman. The seminar was unrelated to the PBS documentary, but Burns and his crew happened to be filming in Little Axe, about 20 miles east of Norman, at the same time. "It was only a half-hour drive away so I spent a lot of time during the seminar dealing with the film," Warren says.
Later in the year, Warren traveled twice to Historic Prophetstown in Battle Ground, Ind., the scene of some of the film's key historical events. There, Warren acted as an advisor on re-enactments from the early 1800s, when the Shawnee brothers, Tenskwatawa and Tecumseh, left the Ohio Shawnee and settled in the prairie town of Prophetstown. It became the epicenter of their spiritual and political movement. Replicas of the two major public houses of the village from that time, the Council House and the Medicine Lodge, remain today.
Telling a relevant story
Every story has a natural length, Warren says, and he and the directors felt "Tecumseh's Vision" had a natural length longer than the budget allowed. As a result, Warren feels there are "obvious silences," or gaps, in the Tecumseh story. However, it's a film people need to see.
"The core of the story is remarkable, and it's extremely important for it to be out there so non-Indian audiences can appreciate what these peoples experienced," Warren says. "This is an unprecedented collaboration between Native and non-Native filmmakers, and because of the filmmakers and their backgrounds, it is a deeply empathetic story."
Warren says both he and Burns were committed to telling a story that made Tecumseh relevant to the Shawnee people in the 21st century. Members of the present-day Shawnee tribe play a prominent role in the film, communicating their pride and the importance of maintaining traditions against impossible odds.
Warren is disappointed, however, that the film doesn't include more contemporary scenes, such as a tribal dinner, a Shawnee language class or a Shawnee football game-a kinship game where the men compete against the women using a deerskin ball. That said, he and Burns know some members of the Shawnee community prefer to keep some of their tribal customs private, and not publicize certain rituals and traditions.
In the end, when dealing with any creative piece of work that involves hundreds of people, it's difficult for everyone's vision to be realized. "As a consultant, Steve did not have editorial control over the final film, which no doubt in myriad ways differs from what he might have wanted it to be," Burns says. "But the humanity of the film was without question immeasurably deepened by his participation, and all of us who had the pleasure of working with him are very grateful for his unflagging, intellectually first-rate and always highly moral perspective."