2008-09 Season - Adam Strand
Augustana head tennis coach Adam Strand will be entering his fourth season with the men and third with the women in 2008-09. Both of Strand's teams finished third in the CCIW in 2007-08 and his men's team recorded 20 dual meet wins, shattering the previous school record of 13 set during his first year. The men finished 20-8 while the women were 13-10.
After being hired in December of 2005, Strand completed his first full season as the head coach for both the men's and women's tennis teams at Augustana with the conclusion of the 2006-07 school year. He did not coach the women's team in the fall of 2005 but did lead the men to a 13-7 overall record in the spring of 2006. In 2006-07 he was at the helm for both the women and the men, guiding the women to a 10-12 overall record and a 3-3 mark in the College Conference of Illinois & Wisconsin, good enough for fourth place in the league. The men went 12-16 overall in the spring of 2007, 3-2 in the CCIW and finished third in the conference. So far he has a three year record of 45-31 overall with the men and 9-6 in the CCIW while he is 23-22 and 7-5 on the women's side of the ledger.
Strand is a 2004 graduate of Luther College in Decorah, Iowa where he graduated with a B.A. degree in Communications/Linguistics. He was a four year varsity letterwinner in tennis for the Norse and served as co-captain as a senior. He was a regular in the lineup for his entire career, playing number one doubles as a sophomore and number three singles as a senior.
During his sophomore season he teamed with Arvid Von Taube to place third in the Iowa Conference tournament. He compiled a 22-5 record at number five singles as a sophomore and as a senior he was 19-4 at number two doubles. Twice during his career he helped Luther finish second in the conference in the team standings. He was selected as "Freshman of the Year" by his teammates in the spring of 2002 and was voted "Most Inspirational Player" as a sophomore in 2003.
He served as the assistant tennis professional at Westfield Tennis Club in Cedar Rapids, Iowa from August of 2004 until Augustana hired him in January of 2006. He also spent five summers working for A.C.T. Tennis Services as a teaching professional. In 2005 Strand was the head girl's tennis coach at Linn Mar High School in Marion, Iowa and also served as an assistant coach at Cornell College in Mount Vernon, Iowa. He also interned at the Des Moines Press Citizen in January of 2003 where six of his articles were published.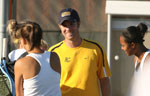 At Luther he was a presidential scholar and a member of the Dean's List. He served as an assistant orientation volunteer for two years and participated in intramurals as well.
A native of Ankeny, Iowa, he was team captain of the Ankeny High School tennis team for two years. He also ran cross country for the Hawks. He served two years as a member of the school's newspaper staff. Adam and his wife Gwen reside in Davenport, Iowa. He also is the assistant sports information director at Augustana.
THE ADAM STRAND RECORD
Overall Women

CCIW Women

CCIW

Overall Men

CCIW Men

CCIW

YEAR

W

L

W

L

W

L

W

L

2005-06

13

7

3

2

3rd

2006-07

10

12

3

3

4th

12

16

3

2

3rd

2007-08

13

10

4

2

3rd

20

8

3

2

3rd

2008-09

7

8

3

3

5th

2

0

0

0

--

TOTAL

30

30

10

8

47

31

9

6
ALL-CONFERENCE SELECTIONS UNDER STRAND
WOMEN
2006-07: Megan DeShon – 2nd
2007-08: Tricia Crawford – 2nd and Jenna Richardson – 2nd
2008-09: Jenna Richardson – 2nd
MEN
2005-06: Rafael Romero – 1st and Tom Goebel – 2nd
2006-07: Rafael Romero – 2nd and Tom Goebel – 2nd
2007-08: Rafael Romero – 1st and Chris Mullin – 2nd