February  13, 2009
Augie alum holds court with Obama
Twenty-five years ago, Alan King was a member of the Augustana basketball team. At 5-foot-11, he was "very quick" and could make "things happen from the point guard position," according to his bio in the 1983-84 game program. Now, he is holding court with the President of the United States.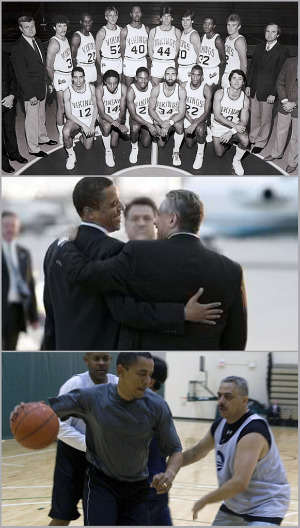 Top to bottom, Alan King '85 (No. 12) as a junior on Augustana's 1983-84 basketball team, on the campaign trail with President Obama last year and playing pickup ball with the President in Chicago on Election Day.
A longtime friend and neighbor of Barack Obama, King, 45, a Chicago labor and employment attorney at Drinker Biddle & Reath, has played pickup ball with Obama for years, and he was a part of the President's traveling game during the primary season. He played in Iowa, where Obama won a surprising caucus victory. He played in Pennsylvania and South Carolina and several other states along the campaign trail. He played in Denver, where he was a delegate at the Democratic National Convention, where Obama accepted the nomination. He played in Chicago on Election Day.
Obama's love of basketball has been well-documented and was the subject of a recent Sports Illustrated article, The Audacity of Hoops: How Basketball Helped Shape Obama, in which King and his days at Augustana were mentioned.
Recently, King talked about his relationship with the President and their shared love of the game:
How did you get involved in the President's circle of basketball-playing buddies?
I have actually known Michelle's brother, Craig Robinson (a former Ivy League player of the year at Princeton and the coach at Oregon State), since we were 12 or 13 years old, just in basketball circles around the city. I got to know Michelle in 1988. We graduated from law school the same year and took a bar review class together. So, I've known her for 20 years. I've known Barack for like 12 or 13 years. I actually first met Barack playing basketball. Now, we are neighbors and have been good friends for the last 10 or 12 years.
What was your first impression of, one, Barack Obama the basketball player and, two, Barack Obama the person?
You know, in a lot of respects they're kind of the same. Barack, the way he plays, is consistent with his personality off the court. He is a real good team player and plays the game the right way. He understands the game. But he is very competitive, which I think the world now has figured out. He definitely has a real competitive streak and wants to win when he's on and off the court. He's a great guy.
What was it like being there on the campaign trail as he gained momentum?
It was really amazing. It was an unbelievable experience just watching the country come to know and like and respect someone you think so highly of and have known has had these qualities his entire life. To be out on the campaign trail and watch the process unfold of people getting to know him and like him ...you just knew early on that this thing was possible. I was in Iowa with him along with other friends and family. That was just a magical night. I think if he hadn't done well in Iowa, that may have been the ball game.
You said you played with President Obama on Election Day in Chicago. How many people were there for that?
Election Day was the biggest game that we've had. It was a little more ceremonial. We had two courts and divided up into four teams. So, we had maybe 25 people. Typically, it was a much smaller group.
Was he on or off that day?
The funny thing is people always ask if we're real careful not to hurt him, if we let him get to the basket. What I will say is that it's really only on those key, key days like Election Day and when he gave his speech in Denver, when he's got to go out in front of the world ... on days like that, people are smart, and we don't want to do anything to injure him. We don't want him to have a fractured ankle or a busted lip. Other than those, it's pretty intense, and Barack wouldn't want it any other way. He doesn't want the guys he's been playing ball with for years to take it light on him.
Was there a game on Inauguration Day?
No. We talked about it. We were kicking it around a little bit, but the demands on him were just too great. I was out there for that, though.
Now, there is the talk of putting the court in at the White House. I assume you'll make a trip out for the opening of that?
I certainly hope so. I hope to get that invite. He's obviously a little distracted with more pressing concerns, but, knowing Barack as I do, I don't expect this first year of his presidency to conclude before he gets that court in there.
To watch someone you've know on a personal level and outside of politics ascend to such a level, what has that been like? And have you seen it change him at all?
It's been surreal. There's no other way to describe it. You never expect to wake up one day and one of your buddies is President of the United States. But I have not seen any change in him or Michelle or the family. The same people that were their friends before are still their friends. They're very friend and family oriented people and like to surround themselves with the people they're close to. I have to say, though, that I have never seen anyone go through anything as tough and as rigorous as what he has gone through in running for president. I have just gained so much admiration not only for him, but for anyone who tries to do something like that. For him to have survived it and kept himself intact mentally and otherwise and kept his friendships intact is a further credit to who he is.
How do you think being an athlete, a basketball player in particular, uniquely qualifies someone to hold high public office?
Well, I'm a big believer in athletics and the many things it fosters, not the least of which is teamwork and being able to work well with others. You learn to rely on the various strengths of others, whether it's on your basketball team or football team or whatever. I think his team approach to things was nurtured in a lot of ways by his love for basketball and the experience of playing. And the competitive fire, wanting to win and wanting to prevail translates into not only winning an election but wanting to get things done now for the American people.
Do you still keep up with Augustana basketball?
You know, I check the scores all the time. Occasionally, I'll try to get to a game at North Park, although I haven't in the past few years. But I definitely keep up and always at least check the scores.
You talked about President Obama's experiences in basketball helping prepare him for his new role. How did your experiences as a student-athlete at Augustana prepare you to become a successful attorney?
I think my experiences at Augie helped me a great deal and really set me on the right path. The broad-based liberal arts education gave me a good foundation for law school, and as a student-athlete I really learned how to juggle a busy life and manage my time effectively. Playing sports taught me how to compete in an honorable way, and I try to take the same approach to my law practice.