January  13, 2009
College mourns retired professor Richard C. Anderson
(See related story from 1992: Richard C. Anderson wins national honor)
Dr. Richard C. Anderson, who touched the lives of hundreds of young people over a distinguished 40-year career as professor of geology at Augustana College, died peacefully Jan. 8 in Champaign-Urbana.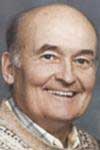 Memorial services in Champaign will begin at 11 a.m. on Wednesday, Jan. 14, at Grace Lutheran Church, 313 S. Prospect Ave. A memorial service will be held in Rock Island, where Dr. Anderson lived most of his life, during the last week in March. Details will be announced later.
Dr. Anderson's family welcomes donations to the Augustana Geology Department.
Richard "Doc" Anderson was born April 22, 1930, in Moline. He graduated from Augustana in 1952 after studying under Dr. Frytiof Fryxell and Dr. R.W. Edmund of the Geology Department. He received his PhD from University of Chicago in 1955 under the guidance of Leland Horberg, another Augustana alumnus.
Dr. Anderson served on the faculty of Augustana from 1957 to 1996, where he profoundly influenced several generations of students and faculty members.
"We remember him as a man of great integrity, who loved teaching, reading, studying maps, working in the field, walking, and listening to music," Dr. Jeffrey C. Strasser, associate professor of geology, wrote to alumni. "We will miss his gentle demeanor, quick wit, calm smile, and sparkling eyes."
Dr. Anderson was the first person to hold Fritiof Fryxell Chair in Geology at Augustana. He was appointed to the chair in May 1985, having chaired the department since 1968. Harold W. Sundelius, dean of the college at the time, said on the occasion, "We are particularly pleased that the first person appointed to the Fryxell Chair was one of Dr. Fryxell's students and a person who has continued the Fryxell tradition of excellence in the geology program at Augustana."
In 1992, Dr. Anderson received the Neil A. Miner Award of the National Association of Geology Teachers, which recognizes a college or university teacher for "exceptional contributions to the stimulation of interest in the earth sciences."
He was nominated by students and colleagues. He took students out of the classroom -- to quarries, mountains, canyons and other interesting features -- around the Midwest, into the Ozarks, the Florida Keys, the Grand Canyon and Yellowstone National Park, among other places.
In addition to his teaching career at Augustana, Dr. Anderson took his knowledge to the community, speaking at clubs and museum programs, and leading scientific tours for the public. He also worked summers mapping for the Illinois State Geological Survey.
He was a member of First Lutheran Church in Rock Island and attended Grace Lutheran Church in Champaign. Surviving are his wife, Ethel; three daughters, Eileen (Dale) Herrstrom, Champaign, Elizabeth Anderson, Santa Fe, N.M., and Penelope Anderson, Boulder, Colo.; two grandchildren; and one great-grandchild.