December  16, 2008
Augustana's '1,000 points of Light'
Students in Global Affect, Augustana's environmental interest group, recently gave away 1,000 compact fluorescent light (CFL) bulbs to residential students. The Campus Sustainability Committee initiated the idea of the CFL give-away in an effort to encourage energy conservation in residence halls.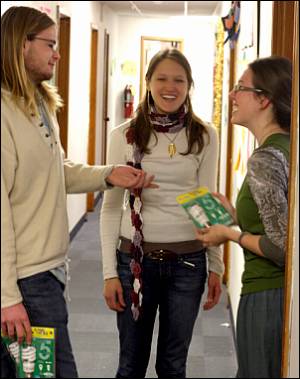 Half of the bulbs were purchased by campus Facilities Services and the rest were donated by MidAmerican Energy.
Although the CFLs are more costly than conventional incandescent bulbs, it's estimated that the college will save about $3,000 a year. CFLs use only 20-33% as much energy and can last up to seven times longer than incandescent bulbs. Equally important, this initiative will reduce the college's carbon footprint, since most of the electricity used by Augustana is generated by coal-burning power plants.
Starting in the fall of 2009, incandescent bulbs will be banned entirely from campus residence halls and houses. Students may buy CFLs from local grocery or hardware stores. Used CFLs can be dropped off at numerous locations in the Quad Cities (e.g. Ace Hardware) for recycling.
For more information on CFL recycling, clean-up guidelines for broken CFLs, and other news on sustainability, visit the Sustainability Committee website.