December  09, 2008
Anonymous donors keep students in school
Two anonymous donors have surprised Augustana College by sending $33,000 for students who are in danger of leaving school for lack of money.
Donors said they saw what a burden the downturn in the nation's economy has placed on students, both in paying tuition and getting loans in a tight market.
"This large of a gift to be used for financial aid is rare," said Dave Myatt, senior associate director of Augustana financial assistance. "Donors recognized economic times may hinder some students from continuing to attend Augustana, and they wanted to make sure that didn't happen."
The Office of Alumni and Development received a phone call from the first donor asking what the full tuition rate is for one year at Augustana. The donor pledged to match that amount so the college could offer special scholarships to students in good standing who were in financial distress. A second donor added another $5,000 to the gift.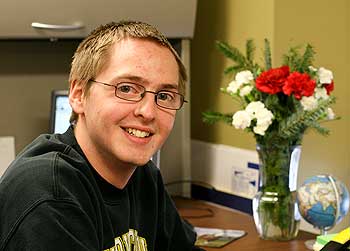 Hilmir Kristinsson at the college Office of International Programs, where he is a student worker. (Larger image.)
---
One student who will benefit is Hilmir Kristinsson, an international student from Iceland.
Kristinsson had done what he was supposed to do. He worked hard: a year and a half of 40- to 50-hour weeks on construction sites in his native Iceland after graduating from a boarding school in northern Wisconsin. He put his money in a bank in Iceland, saving enough to put himself through college in the United States.
He found Augustana College on the Internet, and it seemed like a good fit. So, he enrolled this past fall. He quickly realized he had made the right decision for himself in choosing a small liberal arts college in the Midwest.
"I liked it," Kristinsson said. "It's small, cozy. The people are friendly."
But when Iceland's economy crashed in late-September, it appeared as though Kristinsson's stay at Augustana would be short-lived. Because Iceland's currency, the krona, lost so much of its value, the money Kristinsson had saved was worth less than half of what it was when he left home in August. It seemed he had no other option than to finish out the school year and return home.
That was until last week, when $33,000 in gifts was received at Augustana. Kristinsson is one of many students at Augustana who will benefit.
"There have been a lot of conversations the past few months with my parents, and most of them have been whether I should stay here, if it's worth the money, or if I should go home," Kristinsson said. "This extra financial support has made it possible for me to stay."
Kristinsson, 19, is the middle of three children. He grew up in Stykkishólmur, a fishing community of 1,300 on Iceland's western coast. His father, Kristinn Jónsson, is a fisherman. His mother, Hafdís Bjarnadóttir, works taking blood at a hospital. They've been lucky. Many in Iceland have home mortgages and other significant debts taken in foreign currency, debts that essentially have doubled since the country's economy collapsed. Kristinsson's parents have avoided that fate, having only their car loan to pay in foreign moneys.
Still, the state of his nation's economy wears on him as he reads about it in the news from thousands of miles away.
"I think about it every day," he said. "I'm starting to be calmer now, because I know there is nothing I can really do about it. We know we're in trouble, and it's just going to take time to get out of it."
With that in mind, Kristinsson wants to earn a degree in economics at Augustana. Thanks to the anonymous gift, he'll be able to do so.
"I lost half my money," he said. "That's how significant it was. It really hurt, because that was the money I'd been saving for a year and a half. I worked really hard for it. I'm hoping I can go home and help build up my economy again. That is my big goal."