November  07, 2008
Leah Mortensen
Sophomore Leah Mortensen is a major in speech communication and French. She is from Manhattan, Kansas. Here is her account of watching election night in Grant Park, Chicago.
"Being in Grant Park on Tuesday night for Barack Obama's win was an experience I will not soon forget, or take for granted. I felt incredibly fortunate to be among the 80,000 or so people afforded the opportunity to witness the first black man win the United States Presidency: Something so monumental in our American history.
"Looking around at the people I was surrounded by on Tuesday night I felt such a close affinity with my country. The crowd cheered and embraced when the announcement was made that Obama was "the president elect." When he gave his speech, the crowd yelled happily "Yes we did!" Afterwards, walking back to the station, the streets were alive with the energy and excitement of the night. People cheered giddily and cars honked their horns... it was truly a sight to behold.
"What Barack Obama has been able to accomplish with his election as the 44th president of the United States is truly a sign that the power of our democracy and the "American Dream" are still alive and well."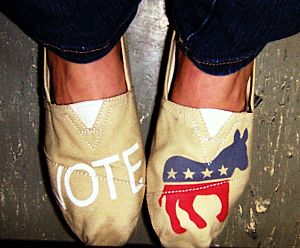 Leah Mortensen wore her election shoes to Grant Park.