November  07, 2008
Parker Caby
Augustana senior Parker Caby describes the experience of watching Barack Obama in Grant Park on election night 2008.
"(Friends) Mike and Josh were contributors to Obama's campaign, and I worked for the Iowa Democratic Party over the summer. So, we were sent emails from the Obama campaign about the event... and Josh and Mike were quick enough to get a free ticket reserved. Each ticket also allows you to bring one guest. I knew I was going for certain, on Monday night around 10 p.m., so it was pretty insane getting it all to work out.
"It was only a few minutes after we had arrived in Grant Park that the announcement came out over the loudspeakers: Obama had won! For a moment we were stunned. Then it sank in and we shouted, cheered, and jumped up and down. Then we waited for the time to come when Obama would speak.
"We did not have to wait long. Barack Obama soon took the stage and we cheered until we were out of breath. The speech was incredible. I had goose bumps by the time it was over.
"I still cannot believe it really happened. All of it. The fact that Barack Obama is the next president of the USA. The fact that I was there among tens of thousands of cheering supporters. The fact that I was able to hear him speak in person. Or the incredible fact that the entire trip lasted only 15 hours!"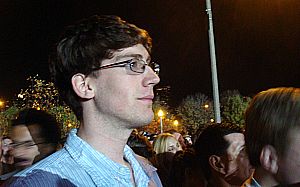 Parker Caby at Grant Park.