September  30, 2008
Dr. Richard J. Ballman named to chair in economics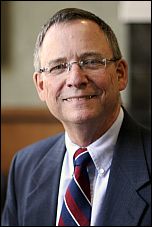 Dr. Richard J. Ballman
Dr. Richard J. Ballman has been appointed as the first Stuart Lee and Virginia Talbott Harbour Professor in Economics at Augustana College.
The Harbour Chair in Economics was established by a $1,395,000 gift from the estate of Stuart and Virginia (Talbott) Harbour. The Harbours established the chair because they valued the study of economics for majors and non-majors alike. They requested that the chair offer academic coursework in practical economics for non-economics majors.
Dr. Ballman earned a bachelor's degree and master's degree at the University of Wisconsin-Milwaukee, and a doctorate at the University of Iowa. He joined the Augustana faculty in 1972.
"I appreciate the recognition implied by the conferral of this chair. In particular I appreciate the implied confidence the Harbour family has shown in our program in economics," Ballman said. "I am, in short, honored to be the holder of the Harbor Chair."
Ballman chaired the department for almost 20 years and served six years as the chair of the Division of Business and Education. He also represented the division on the Educational Policies Committee for 10 years and served on several important ad hoc committees.
"Endowed faculty positions are important both as a means of supporting the outstanding teaching that is at the core of all we do, and recognizing colleagues who have made remarkable contributions to the college and its mission of preparing students for lives of leadership and service," said Augustana College President Steven Bahls. "Professor Ballman embodies this, and will be an outstanding inaugural holder of the Harbour Chair."
Stuart Harbour was born on his parents' farm near Millersburg in Mercer County, Ill. After graduating from Augustana in 1943, he served as a pilot in both World War II and the Korean Conflict. Between his calls to active duty, he completed a master's degree in business administration at Georgetown University. He came back from military service to his home in Mercer County and sold insurance. After his marriage to Virginia Talbott, the couple moved east and Stuart Harbour became an analyst for the Small Business Administration, retiring in 1984. Virginia Harbour died in 1992. Stuart Harbour died in 2002.
"Dick Ballman has cheerfully taught what's known as the 'dismal science' to generations of Augustana students, helping them to see the role of economics in their lives," said Dr. Jeff Abernathy, dean of the College. "He is a model professor and colleague who has served as mentor to students, faculty and (in my case) administrators alike over his years of service. I am delighted that we have the opportunity to honor him and that he will continue his service to the college for the years ahead."
Augustana College has 16 endowed faculty chair positions.

About Richard Ballman
Richard Ballman and his wife Pat, the resource manager for the Rock Island Arsenal Garrison, have two children and four pre-school grandchildren. Chris, a recruiter for JPMorgan Chase, and his wife Erin, a speech pathologist, live in Elmhurst with their two daughters, Jillian and Nora. Katie, an English teacher at Moline High School, and her husband Mike, the manager of a machine shop, also have two daughters, Caroline and Annie.
Ballman said he started working at Augustana in 1972, largely because of its proximity to Iowa City, where he had started the dissertation phase of the Ph.D. program at the University of Iowa.
"Though I had several publications and professional presentations early on in my career, I did not envision myself as engaging in a research-oriented position," he said. "With my background in large universities I had perhaps an idyllic conception of a liberal arts college; nonetheless, I thought my vocation to be teaching and I subscribed to the idea of a diverse, intellectually well-rounded educational experience.
"Fairly early on I realized that Augie would be a desirable long-term career, in part because I appreciated the latitude the administration gave me to function within and participate in the various aspects of the institution to the degree I found suitable. More than that, however, I concluded that I could never find a better situation than working with my mentor and colleague of 30 years, Bill Conway.
"By example, not fiat, Conway set the standards for the economics program. The program was to be demanding: students would be challenged to develop the tools to analyze economic phenomena and problems. Once students realized the height of the bar, most increased their effort and showed some degree of success, if grudgingly. Over the years both the content and the methods of presentation in classes have evolved (or at least changed) but the experience has remained rigorous."
Away from Augustana, Ballman said he enjoys congregating with his extended family, playing free cell (on a computer) and golf (on a course). He like to read novels, both literary and pulp, works out at the Y and reads the Wall Street Journal daily.