September  16, 2008
Bus stop: Show your ID and hop on!
Augustana, here's your ride. MetroLINK parked a bus behind the Tredway Library Tuesday to show the campus community the features of its fleet. Attracted by sandwiches, T-shirts, info sheets and rider's guides, students walked around the bus and went inside to test the seats. Some had taken the bus before, but many have yet to do so.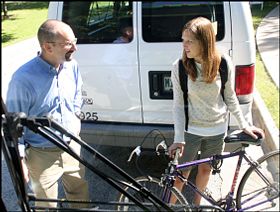 Dr. Mark Vincent and student Pamela Larson prepare to show students how easy it is to stow a bike on back of a MetroLink bus. (Photo by Matthew Peters)
A partnership between MetroLINK (aka the Rock Island County Metropolitan Mass Transit District) and Augustana College started this year means that all students, faculty and staff can ride the bus without worrying about the right change. Just show your ID and hop on! There is no cost, no matter how often you ride or how far you go around the Illinois Quad-Cities area: Rock Island, Moline, East Moline, Milan, Silvis, Carbon Cliff, Hampton and Colona.
The bus on display Tuesday is powered by compressed natural gas, which means 90% fewer particulate matter emissions and a 50% decrease in nitrogen oxides, according to MetroLINK. About half the MetroLINK fleet of some 50 buses runs on natural gas. They can seat up to 26 passengers, including two wheelchair tie-downs, and carry bicycles on the back.
Kai Swanson of the president's office and Augustana junior Pamela Larson, a board member of the campus organization Global Affect, showed reporters how easy it is to set a bike on the rack for a trip across town. Larson said she uses the bus to get back and forth to a local housing complex where she has a teaching project.
Global Affect plans a bus scavenger hunt in the future - a fun event that could help "acclimate students to public transit," Larson said.
Not all students were aware of their new bus benefit. Many were familiar with the late-night shuttle service from campus to downtown Rock Island, which started last spring, but didn't know that they can now ride anywhere on the MetroLINK system at any time, just by showing an ID. "Sweet," said one.
MetroLINK spokeswoman Jennifer Garrity said the partnership between the college and the transit system is "pretty cutting edge." It's the first such partnership for MetroLINK, and she sees it as a good way to get the word out that riding the bus can save gas and the environment -- "even if you only take it once or twice a week."
In addition to detailed route information, MetroLINK offers a text messaging service that allows riders to access real-time information about how far away a bus is from a given stop, so riders can find out if there will be a wait.
To further help students find their way, Professor Mark Vincent of the psychology department and student Katie Suriano created a map of bus routes in Google Maps that will allow students to plot their own destinations.