September  12, 2008
Project Pedals gets wheels in motion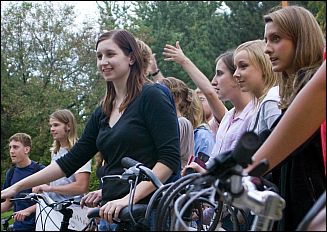 Bike riders Eileen Andrews '12 (center), along with (on her right) Alicia Hillar, Rebecca Coyne and Natalie Radziejewski. (Photo by Dalsem Yang)
Global Affect at Augustana is celebrating the successful launch of Project Pedal.
The student environmental organization gathered Thursday night outside Olin to take pictures and trade stories with 14 first-year students who are riding new mountain bikes around campus after signing a pledge not to bring a car to campus this year.
"It's great," said Eileen Andrews of Arlington, Ill. "I didn't bring a car on campus because I didn't want to pay for the gas."
Global Affect got the idea of Project Pedal last spring from Q.C.T.A.G., or the Quad Cities Transportation Advocacy Group. The organization worked with Augie students to get them out of their cars and onto a bike.
First-year Mike Tisza of Prospect Heights, Ill., doesn't seem to mind the idea of using a little leg power to get to his favorite hangout. "It's extremely convenient, especially when I'm going somewhere off-campus," he said.
Global Affect plans to continue activities throughout the year to increase alternative transportation on Augustana's campus and Quad-City streets. Global Affect partnered with Bike'N Hike and Royal Neighbors of America to make this project possible.