September  12, 2008
River Readings at Augustana will be a treat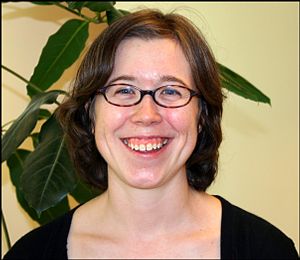 Farah Marklevits
Augustana alumna Farah Marklevits ('99) will read from her poetry at the opening night of The River Readings at Augustana series on Sept. 18.
The event will be held at 7 p.m. in Wallenberg Hall. A reception will be held afterward in the Denkmann foyer
Marklevits received an MFA in creative writing from Syracuse University in 2001. She is an instructor of English at Augustana and Assistant Director of the Reading/Writing Center. Her work has been collected in the book, "Three New Poets: Sarah C. Harwell, Farah Marklevits, Courtney Queeney" (The Sheep Meadow Press, 2006).
"I often circle around and around some subject in order to express its tensions," Marklevits said about her writing. "If I write about marriage, I don't just write about joy but also doubt. I don't just write about my own experience but also other possible experiences, hoping I have cast a larger net than just me."
Mary Karr, poet and memoirist, said of Marklevits' work: "Farah Marklevits' treatises on marriage take that revered and dreaded institution not only to heart, but to head, to the races and the cleaners, to hell and back. It's knelt to and burned in effigy, inhabited, breathed into the writer's lungs. It's fled to and from."
Augustana creative writing professor Kelly Daniels said he is particularly pleased with the roster of writers this year. "It's a treat for our students, and indeed for the entire Quad-Cities community, to have writers of such stature read right here on campus," he said.
The River Readings program director is librarian Margi Rogal, with assistance from Daniels, Marklevits, and associate professor Rebecca Wee
The River Readings at Augustana 2008-09
Readings will be held in Wallenberg Hall in the Denkmann Memorial Building at 7 p.m. (subject to change). For updates, go to www.augustana.edu/calendar
Thursday, September 18
Farah Marklevits, poetry
An alumna of Augustana College (1999), Marklevits is now instructor of English and faculty tutor in the Reading and Writing Center, and co-author of "Three New Poets: Sarah C. Harwell, Farah Marklevits, Courtney Queeney" (The Sheep Meadow Press, 2006)
Thursday, October 23
Rick Moody, fiction and memoir
Author of seven books of fiction, including "The Ice Storm" (Little Brown, 1994), Moody published a memoir, "The Black Veil: A Memoir with Digressions" in 2007 (Little Brown).
Thursday, January 29
Li-Young Lee, poetry
Lee's new book of poetry, his fourth, is "Behind My Eyes" (Norton, 2008). He has also written a memoir, "The Winged Seed: A Remembrance" (Simon & Schuster, 1995).
Thursday, March 26
Aryn Kyle, fiction
Making a splash with her first novel, "The God of Animals" (Scribner, 2007), Kyle received her MFA in fiction at the University of Montana. In 2008, her novel won an Alex Award from the American Library Association, which recognizes adult books with teen appeal.
Thursday, May 7
Marvin Bell, poetry
A faculty member at the University of Iowa Writers' Workshop for more than 30 years and poet laureate of Iowa from 2000 to 2004, Bell is the author of 18 books of poetry, including "Mars Being Red" (Copper Canyon, 2007). Bell will be a Woodrow Wilson Visiting Fellow at Augustana for the week of May 4-8.