August  27, 2008
Terrence Roberts: 'You can't color-code the community'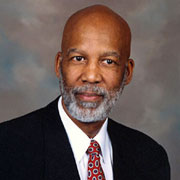 Terrence Roberts, who faced an angry mob as one of the "Little Rock Nine" who integrated Arkansas schools, will do what many other Americans will do Thursday night: he'll be watching TV as Barack Obama accepts the Democratic nomination for president.
The historic event - the first nomination of an African-American - must have seemed impossible when Dr. Roberts was growing up in Little Rock, Ark., trying to understand and cope with the segregation that touched every aspect of daily life.
He discussed his "Lessons from Little Rock" as the first speaker in the 2008-2009 Community Convocation Series at Augustana College on Aug. 28, 2008.
On Sept. 23, 1957, nine African-American teenagers had to be taken to safety by police when anti-integration protests threatened violence at Little Rock's Central High on the first day of school. President Dwight D. Eisenhower was forced to order the Army into Little Rock to escort them into the school. The event was the first important test for the U.S. Supreme Court's Brown v. Board of Education of Topeka decision of 1954, ordering the desegregation of schools.
From the perspective of 2008, "It's difficult to image such a thing would happen," Dr. Roberts said.
Starting with a light-hearted reference to his thinking "in utero," Dr. Roberts said he expected to be born into "a group of people who would be happy to see me." However, because of his skin color, the attitudes around him were not all welcoming. "I had to contend with that reality," he said.
As a child he tried to understand the reasons for prejudice. At age 9, he concluded that "white people are crazy" because segregation made no sense. Later, he realized that to be safe, he had to "learn the rules" however irrational they seemed. He described a pivotal moment at age 13 when he strayed outside the unspoken boundary between whites and blacks in a diner and sat down on a stool. "I don't know why I did it," he said. "Something inside me snapped." He could no longer obey the unspoken laws of segregation. He ran home from the diner in a turmoil of confused emotions.
The incident caused him to follow a new train of thought: "Who are you really? Not who they say you are."
The law vs. attitudes
Dr. Roberts pointed out that segregation was legally acceptable for 335 years, from the time of the Jamestown settlement in 1619 until the 1954 Supreme Court decision. That changed the law, but could not erase 335 years of attitudes in a single stroke, he said.
"But in 1954, I was elated. Naively so," he said.
When the Little Rock school board proposed to follow the law and planned to desegregate in 1957, Dr. Roberts was one of 150 black students who volunteered to integrate Central High School. By the first day of class, intimidation and the rumor of violence had reduced the number of volunteers to nine.
"Some people thought we were crazy," he said. "But you get to the point where you've just had enough."
He described it as "a year of hell."
And the "Lessons from Little Rock"?
For one, the need to end violence. Early in the year, the nine students met Dr. Martin Luther King. He questioned them about their vow of non-violence and told them they would have to love their enemies. Could they do that? They said answered yes.
For another, the benefits of dialogue in changing the way people think. Dr. Roberts stressed looking at people as one group, not many. "You cannot color code the community," he said.
He said we need to reclaim our spirituality as a group, promoting inclusivity, and seeing people as "citizens of the universe" and not as groups.
Since 1998, Dr. Roberts has been a desegregation consultant for the Little Rock School District.
He holds a Ph.D. in psychology from Southern Illinois University and a MSW from the University of California, Los Angeles. He has served since 1975 as CEO of Terrence J. Roberts & Associates, a management consultant firm offering expertise in managing racial and ethnic diversity and developing multicultural awareness. A published author, he also maintains a general psychology practice in Pasadena, CA.
(Background: "What happened in 1957")
Other upcoming speakers in the 2008-2009 Community Convocation Series:
Sept. 11 - Keith Hampton, "The Healing Power of Music"
Sept. 25 - James Kunstler, "The Long Emergency," challenges posed by the oil crisis, climate change and other "converging catastrophes"
Oct. 9 - Doug Glanville, "Culture of Sports: Steroid Use in Professional Baseball"
Oct. 23 - Woodrow Wilson Visiting Scholar Robert Levey, "Campaign Coverage 2008: Not the Media's Finest Hour"
Dec. 4 - Woodrow Wilson Visiting Scholar Bobbie Gottschalk, "Out Beyond Ideas," Seeds of Peace.
All presentations are scheduled from 10:30-11:20 a.m. in Centennial Hall.