| | |
| --- | --- |
| | Winter 2007 |
Welcome
Shawn Beattie, ITS, editor

Welcome to Augie Techknowledge from ITS, an e-newsletter to share "what's new" in ITS and provide useful tips and articles on Information Technology and Educational Technology at Augustana. We hope you like it and find it useful. The newsletter will be archived on the ITS web site at http://its.augustana.edu/techknowledge. Enjoy!


---
In this issue:
A new person in ITS
What's up with Vista?
Datatel Colleague Update
Outlook and Daylight Saving Time
Spam Traffic on the Rise
Update: Augustana's Network Speed

---
A New Person in ITS
ITS is excited to welcome

Laura Meyers

on staff. Laura is our new

AV Services Assistant

and is responsible for checkout, scheduling, and maintenance of our equipment such as laptops, digital cameras, and camcorders as well as duplication and conversion of CD, DVD, and tape formats. Laura has lived in the Quad Cities all her life, is married to Jeff (an Augie alum), and has three children. She looks forward to getting to know everyone and is enjoying her new job at Augustana. Please join the ITS staff in welcoming Laura to our department! You can call Laura at

x8948

or e-mail her at

LauraMeyers@augustana.edu.
What's up with Vista?
Denny Hurd, ITS
As most of the computer world already knows, the new operating system (OS) from Microsoft known as Vista is now available to purchase. And many users will struggle with the question of whether to upgrade to this new software or to be content with the one they have -- probably Windows XP. Opinions abound, but we will try to bring a little clarity to the issue of whether or not to upgrade at home, and also if Augie will upgrade to the new OS.


First, we'll look at home use of Microsoft Vista. For most home users, they will choose between Home Basic and Home Premium. Home Basic is the entry level OS for home computers and features Instant Search, parental controls, photo gallery, Defender, and Media player. Home Premium has all of the basic features plus Flip 3-D screens and connectivity with your TV if your computer hardware allows it.

The Home basic requires a minimum of 1GHz processor, 512 MB RAM and 20 GB of free hard drive storage with a DVD-ROM drive. The other versions require a minimum of 1 GHz processor, 1GB of RAM, a 40 GB drive with at least 20 GB of free space, 128mb of graphics card memory and DVD-ROM. However, Vista is a real resource hog and these are considered the absolute bare minimum. A dual-core processor with 2GB of RAM, large hard drive and a 256MB graphics card is a much better setup for Vista. If you donít understand all of these requirements, a good rule of thumb is that if your PC is more than one year old, it probably is not a good candidate for upgrading to Vista. Even a recent purchase might not be a good candidate if you didnít buy a higher end PC with lots of memory and processor speed.

Business users will choose between Business and Ultimate, with the Business version targeted for most users in the business community unless they need (or want) many media extras like TV connectivity in which case they will opt for the Ultimate version.

Because of the high demands already on PC hardware, and because of current projects on the ITS calendar, we donít plan to upgrade to Vista for at least 18 months. Out of approximately 1,000 PCs in both the labs and offices on campus, less than 150 of them currently meet the minimum requirements for running Vista. Upgrading to Vista would also entail upgrading to Office 2007 and upgrading many databases and programs currently running in Windows XP. ITS does not anticipate having the time, the staffing or the money to do such an upgrade within the next 12-18 months.

Upgrading your PC is often a lot like a home remodeling job -- it will probably take longer than you think, it will cost more than you think, and it will not be as painless as you may have been led to believe. If you really want Vista on your PC, your best bet may be to just buy a new one with the OS already installed from Dell, Gateway, or a local computer store. That is, unless you really enjoy meeting the challenges (and often surprises) of installing a new OS.

Datatel Colleague update
Chris Vaughan, ITS
On April 19th, 2007, Augustana students will leave behind a decades-old tradition. Gone will be the long lines of anxious underclassmen hoping against hope for that last spot in the B period section of Dr. Robinsonís class. Gone is the clacking and buzzing of printers and terminals with the ivy of wires covering the walls and floor. Missing from now on are the five ďrandom old ladiesĒ who have guided many a generation of Augustana student through the maze of closed course sections. No longer will students have to open field tackle professors and plead for their signature on an admit slip like some starry-eyed groupie. On this day students will begin to register for classes using a product from Datatel called Colleague.
OK, there will probably be some teacher tackling, and Dr. Robinsonís classes will be full until the day he retires, but on-line registration will definitely change the how and when students sign up for classes. To begin with, every student will be issued a WebAdvisor account which will allow them access to their own historical academic information. Depending on class standing, students will be issued a registration time when they can log into the system and begin to build their schedule. Once in the system, students can search for classes that fit their academic requirements by time, course and professor. After selecting a schedule that works, students may submit it for processing. However, it remains available for change until the end of the entire registration period.
Of course, there are additional benefits associated with on-line registration: not having to leave class to register, having full access to registration anywhere with internet access, and having instantly updated class availability to name a few. But the most powerful tools are yet to come. Next fall the Colleague degree audit module will be available, and used in conjunction with the registration module, students and advisors will have more information at their fingertips than ever before. Students will truly be empowered with the necessary information to play a much more active role in shaping their academic experiences here at Augustana College.
Outlook and Daylight Saving Time
Shawn Beattie, ITS
As a result of the Energy Policy Act of 2005, Daylight Saving Time (DST) will start 3 weeks earlier this year than in previous years. This year, the change will occur on March 11th. Under the old rules, it would have changed on April 2.

In order for this change to happen, computers need to be patched with the new Daylight Saving rules so that they update your system time on the correct day. Augustana-owned Windows computers will be updated automatically upon login to the network starting next week. Microsoft released this patch as a critical update earlier this week.
However, because not all systems and servers will be patched at the same time, it is likely that some email timestamps and some appointments on your calendar between March 11th and April 2nd may appear to be 1 hour off. Please be aware of this as you schedule appointments during this timeframe. ITS hopes to have all computers and servers updated by Tuesday, February 27th.

Problems with incorrect meeting times will likely occur for some users because some systems will be updated before others. Time zone and daylight saving information is embedded in Outlook's recurring meetings, and will be set or viewed incorrectly.

Because of this change, ITS is making the following recommendations:

1. For appointments between March 11 and April 2 pay extra attention to the meeting time and verify the times with the meeting organizer, if you have any suspicion. Also check your appointments after Tuesday, February 27th to make sure they are still accurate after all server and operating system patches have been made.

2. When making Outlook calendar appointments within the March 11 to April 2 timeframe, include the time in the meeting subject as a redundant check so that everyone will know the correct time.

3. As an additional redundant check, ITS recommends printing a copy of your Outlook Calendar(s) now for the March 11-April 2 timeframe, before any Windows or Outlook updates and patches have been applied.

ITS has a FAQ with more information about this issue at http://its.augustana.edu/patches/dst2007.php
Spam Traffic on the Rise
Shawn Beattie, ITS
If you're like most users, you may have noticed the [**SPAM**] tag being more frequently added to e-mails coming into your Augustana e-mail account. This is our on-campus e-mail filter saying it thinks your message might be spam. However, you may also be noticing more spam messages that aren't getting tagged with the spam tag. This is because spammers are gaining ground in the technological "arms race" between spam detectors and spam senders. A recent article in the New York Times detailed the plight of many companies and universities -- spammers utilizing complex images, going offshore, and generally breaking every rule that stops their mail from getting into your mailbox. According to Scott Dean, network manager for ITS, we have seen as many as 200,000 e-mails per day coming on campus. He predicts that a quarter million will soon be the norm. Of those, about 10% are legitimate e-mails and the rest is junk. Shown in the graph below, light green is considered legitimate e-mail and everything else is considered spam.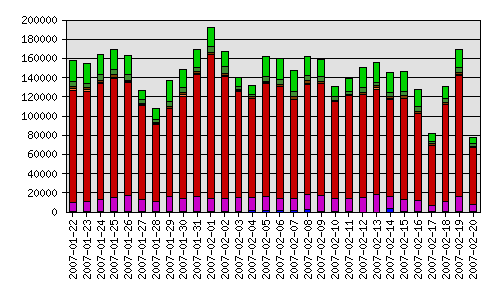 For now, all we can do is try to keep up on the technology that shields us from spam -- and to keep our fingers on the 'delete' key.
So....a bonus tip from Beth Whitty:

To remove spam emails from your Inbox, set up a rule in Outlook. What is a rule? In Microsoft Outlook, a rule is a set of conditions, actions, and exceptions that processes and organizes messages automatically and that is triggered by an event.
Go to this link to see how to set up rules in Outlook: http://www.augustana.edu/its/documentation/officexp/outlook/rules.php
Update: Augustana's Network Speed
Shawn Beattie, ITS
Currently, Augustana's Internet connection to the outside world is supported by 7 digital lines called "T1" lines. This provides a total dedicated bandwidth of about 10 megabits per second. This was a 40% increase over last year's capacity; however, internet applications are still becoming more bandwidth-intensive, and demand for bits is still exceeding supply (think about video networks like Google Video and YouTube, social networking sites like Facebook, and even academic sites such as ArtStor.) Augustana's network group, led by Scott Dean, is currently planning on another significant upgrade -- so, relief is on the way. But please remember, we are all sharing the same connection -- even with an upgrade, we must conserve network traffic much like we must conserve electricity, water, or other shared resources.
You can continue to monitor a real-time snapshot of our network traffic by going to http://its.augustana.edu, then selecting the General tab in the left hand frame, then Network Status.

Have a great Spring break!
Visit us at http://its.augustana.edu